Get in contact with us
Telephone
Germany
Tel.: +49 (0) 7306 782-0
Contact form
We are happy to answer your questions.
> Contact
Advantages:
Metal-to-metal seal prevents side leakage.
No additional sealant or adhesive compounds – eliminates contamination risks.
Self-retained part, anchored safely in vibration environments.
Easy removal procedure.
Orifice diameter and cracking pressure customized to your flow requirements
PERFORMANCE
Max. working pressure differential: 300 bar (4351 psi) in checked direction
Check valve sizes:

∅

5,5 mm,

∅

8 mm,

∅

10 mm (0,217 – 0,394 Zoll)
Material: stainless steel
Cracking pressure: 0 – 2,5 bar
Modular concept: Forward Flow Valve (FF) / Reverse Flow Valve (RF)
Standard orifice diameters: 1,4 mm (0,055") and above
Smaller orifices available
upon request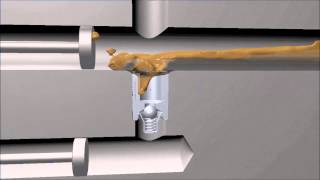 THIS IS HOW KOENIG CHECK VALVE® REGULATES FLOW DIRECTION
The KOENIG CHECK VALVE® easily installs into an as-drilled hole. It is simply dropped into a counterbored hole. The integrated pin is then pushed inside to expand the sleeve. The grooves on the outside of the sleeve anchor into the base material for clean installation.
KVT-Fastening provides a range of CHECK VALVE® for various application requirements. The cracking pressure can be optimized to your system requirements; this allows you to have complete design control. Please contact us to discuss your custom requirements.